As you'll no doubt be aware, British Airways' new, Club World London City flagship service from London to New York departed from City Airport, en route for JFK, for the very first time just about an hour ago.
Sadly, I'm not on board it

.


In better news, I will be tomorrow.
I'm very possibly even more excited than I was on 7th August 1981, which was the day before my first ever flight, aged 7, on a midnight Air Malta charter to Luqa from Newcastle. The sausage served was, I distinctly remember, just like
HIDDY
's.
Anyway, as soon as the much-heralded On Air in-flight internet service is activated, I'll be Twittering and Facebooking to a few folks, but I thought that the people who would really be most interested would be fellow FTers, especially since some of the first mass-media Tweets etc are of the usually lamentably poor quality. The Times reported a moment ago that 'The cabin is the same as normal club world, just newer'... [It's most definitely not.]
However there's only so much value in me telling you what I happen to notice though through my tears of unbridled joy, so I thought that I'd give FTers almost 24 hours notice of the trip. That'll allow you to ask the questions that you're most interested in and I can then look out for and post the answers from LCY and the aircraft itself. Of course, if you have questions while I'm in the air, then you can keep asking them and I'll answer (subject to the flight time being long enough!) LIVE and in real time.
In the meantime: yippee!
Just So You Know...
Before I start posting though, I think it's imperative that I mention a couple of things and answer a couple of questions before you wily and incisive FTers quite justifiably ask them.
Firstly, I'll try as much as possible to describe the service objectively in my posts. When I make more subjective comment, it will be my own personal opinion and I'll try to remember to flag it as such.
Secondly, I'm paying for all the parts of the trip myself, other than the flight LCY-JFK and back. As part of my professional life, I look after a number of people for whom the new service could be of immense interest and of both personal and professional value. BA is interested in my views and they will receive them in full. They have invited me on board and now know of the existence of this thread. They'll not be paying for the web access on board!
Thirdly, I am personally and professionally broadly well-disposed towards the airline, but they (and many of you) will know that I have been clear in my criticism of and concerns regarding various aspects of their service and product from time to time. I post that criticism (and praise, where due) here, elsewhere and communicate it directly through any other relevant official channels. This year, I've flown with EZ, BD, SQ, NZ, LX, QF and US on multiple occasions, quite apart from BA. LX F was, in particular, a real highlight. Please feel free to have a look at my blog (my signature is the link) if you want further background on some of those flights and my thoughts on them.
Lastly, I should tell you that I am so excited that I could almost wee, so I'll hand over to you now and say 'bring on the questions'!
From London With Love
Well, the day has dawned!
DLR: 23 minutes from Bank, 47 minutes from Hyde Park Corner and the regiment of self service machines welcomes me through the doors of London's super-efficient City Airport.
Passport scanned, flight number inputted, security questions answered and 90 seconds later the booarding pass bearing that most evocotave of British Airways service signifiers, BA1, appears. I wonder if that piece of card realises how much history it carries with it?!
Straight up the escalator, a BP check, no queue whatsoever at security, laptops and liquids out, belt off and through in 2 minutes.
Into the duty free shopping and dining area and then on to the Gate 24 lounge, via another BP check and random secondary security check. 3 minutes.
Down the stairs to the gate lounge and a welcome from the guardian of this 32-seater enclave with a wide-angle view of not just the A318, but also one of the forthcoming BA CityFlyer Embraers.
So, 35 minutes from Bank, just over an hour from Park Lane, and I'm sitting with an Ayala champagne cork being popped.
And yes, the lounge guardian is wearing: a hat!
Just as I'm welcomed into the lounge at 11.45am, a call comes in from the 'City Business Team'. They're ringing to say that there will be a delay to departure, but that the check-in desk will remain open until 20 minutes before the revised departure time, just in case I want to stay at work longer and delay my own arrival at LCY.
A little later, the Captain and First Officer present themselves in the lounge to explain the nature of the delay, that the required replacement part is being fitted and that we will depart immediately once testing is complete.
They make themselves available to take questions. Caterers are now en route to provide further sustenance to passengers, who seem apparently little-concerned and are mostly working, heads-down over laptops utilising the

free wi-fi.
My opinion: any delay, least of all one to a flagship service that is all about speed and efficiency, is disappointing. Delays are, however, a fact of life, and if you're going to have to deal with them, then this seems to be being handled very well. Plenty of communication, including that initial phone call is the key. I notice more than a few folks have only just appeared in the lounge, so I assume that they made use of the opportunity to remain at their London desks a little longer.
Update
Replacement of engine sensor now complete. Part brought up from LGW and an Airbus engineer is now on board to supervise the tesing procedure.
Still no obvious concern in the lounge, although some dinner arrangements must be being re-arranged.
Sandwiches, wraps and rolls, and more bottles of Ayala have arrived at Gate 24.
The LCY Lounge - Gate 24
Getting to the lounge, which is at the far end of the 'bridge' corridor from the main departures area at LCY is undoubtedly made swifter by the segregated security channel, but this is what you'll find after you've negotiated the terminal proper:
The lounge has exactly 32 seats, not one more, not one less. They're a combination of leather and velour armchairs, arranged in facing pairs and each pair has a small coffee table between.
Some of the tables host small baskets of snacks. The seats do not have individual or bespoke power points, but there are a few wall-mounted ones dotted around the walls. I'm currently plugged in to the boarding podium power points!
Washrooms are not in the lounge, but rather they're to be found back up the stairs to the bridge, and then immediately to the left.
There's a bookcase with the usual Galleries selection of magazines and newspapers, atop which currently stands an arrangement of lilies which could probably do with a few drops of two parts hydrogen and one part oxygen.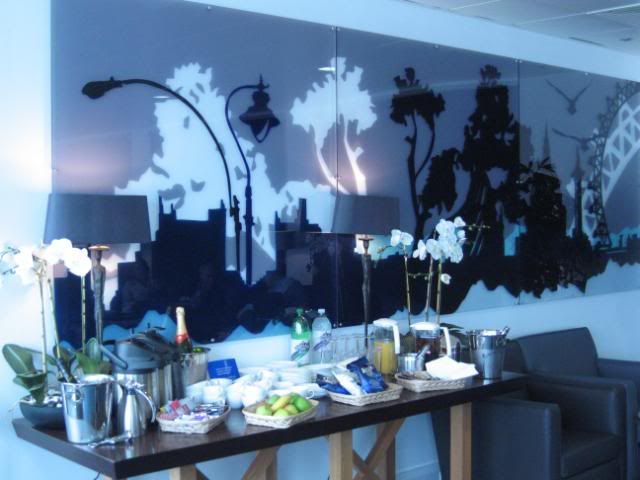 At the far end of the lounge is a buffet laid out with tea and coffee, red and white wine, Ayala champagne, soft drinks, fruit, Kettle Chips and a variety of other snacks. This is not a place to grab a meal; it's expected that most passengers will arrive close to departure time and board immediately. For a short heel-cooler though, it's perfectly acceptable.
The lounge is at apron-level, with floor to ceiling windows and, by virtue of that, the view is most unusual these days. You really are up-close-and-personal with the aircraft turnrounds and movements.


Update
Boarding in 10; take-off ETD just after 14:30.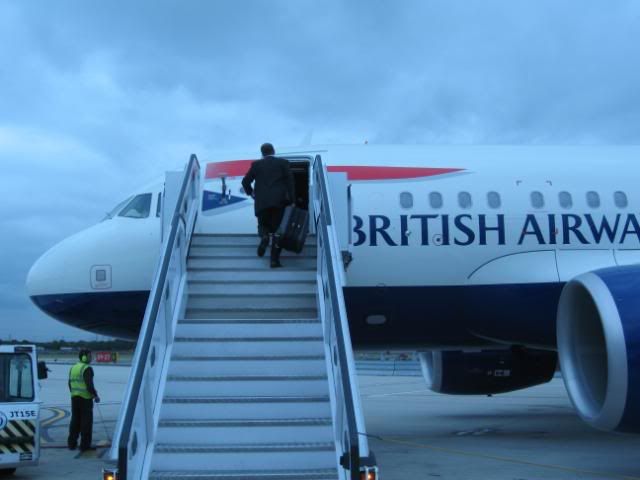 Update
Boarding!!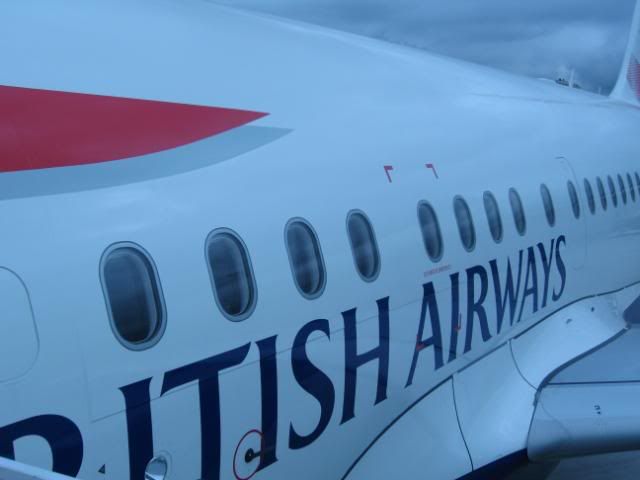 From The Ground: Where Are You
,
Continentalclub?
Don't panic, Mr Mainwaring; I'm here, I'm here!
Apologies for the slight hiatus there. OnAir came on 10 minutes out of LCY and stayed on with only one satellite change 'bong' until the seatbelt sign coming into SNN. I'm now through immigration and they're already boarding. Arghhh - it's going too quickly. More in a minute!
The Shannon 'Shuffle'
Crikey. Back on board, 41 minutes after touchdown. Security: 3mins. Laptops out and shoes off.
Immigration: 4mins. Four fingers of right hand and photo.
Lounge-style holding area, then boarding from adjacent gate. Posting briefly before take-off; the next post will be OnAir and in more detail.
Hello! Yes You. Down There. Look Up: That's Me Waving!
Can you hear me?
Is there anybody there?
OnAir on 4 minutes after take-off from Shannon and we're now cruising over the Atlantic.
Second safety demo conducted by the crew with good humour, despite the obvious box-ticking excercise.
More soon....
Sorry, My Mouth's Full At The Moment
Back again.
I see that folks are concerned about the delayed departure, although I don't know myself when it was identified, and what the component parts of the total delay comprised. If anything transpires, then I'll let you know, but no-one on board is suggesting that it was an LGW issue.
Right, in other news, I can respond to the 'Bong' question: the bong/chime is exactly the same as the one for the seat belt sign. It goes off every time that a satellite-switch occurs. So far, it's not at all intrusive, but it may be different on the overnight return.
Just having my lunch/dinner now, so will bring you up-to-date asap!
I Can Talk Now
Right, here goes 'the journey so far'. I'll upload pictures later, as the OnAir system is definitely better suited to BlackBerry-type comms and emails than major data transfers.
The aircraft is parked right outside the lounge, so the walk to the steps can be no more than 50 yards. One member of crew at the door, one at centre aisle and one at the rear. Female crew wear their hat and all crew wear a distinctive CWLCY security pass lanyard.
Boarding, as you would imagine, even with this almost full load, is very swift, with plenty of room to move around and one overhead bin per passenger.
The seats are prepared with large cushion/pillow and a quilted CW-style blanket.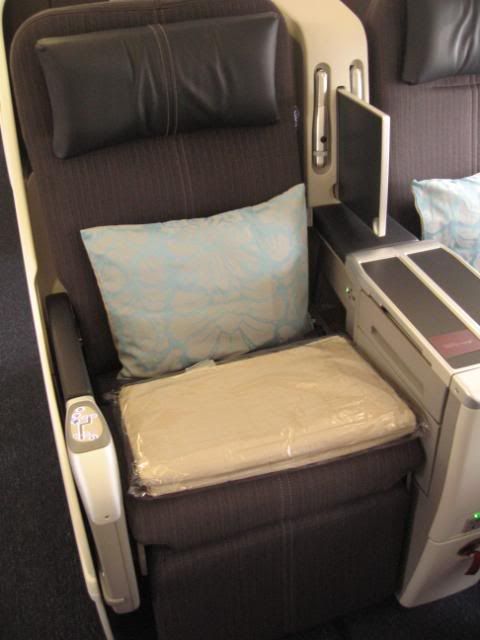 There is a ready-prepared, numbered coat hanger on each footstool.
Noise-cancelling headsets are in the seatback pocket, along with a comprehensive guide to the CWLCY service.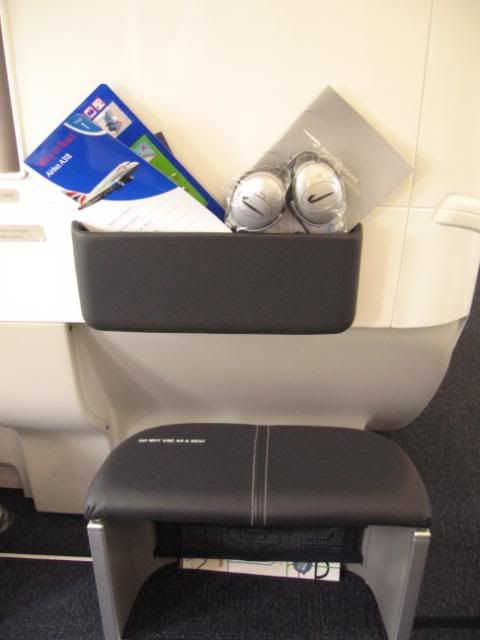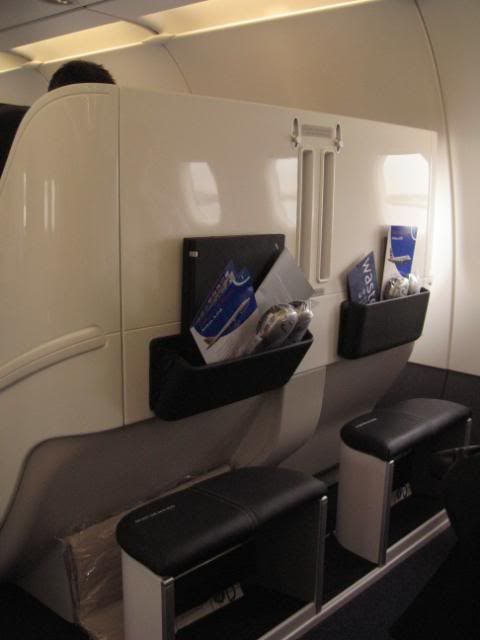 As we take off towards the West, we have a very short taxi. We're airborne, unsurprisingly from this truncated strip, very quickly.
The low payload assists the steep ascent, and the sound of the contents of the lightly-loaded overhead bins shifting around is notable!
Coming To America (Via Shannon)
The loading, securing, safety brief, taxi and take-off are so quick that there's not a lot of time to study the cabin or the seat before we're airborne.
But, once we are, it's quite an unusual space. The combination of a seat-style most usually seen only on board wide body fleets, seen here in a narrow body profile, is the first thing. However, where they can sometimes look cramped and jammed-in on a wide body, here they afford a feeling of unusual space.
The white cocoons, side walls and roof lining obviously help, but there are some more subtle details that heighten the effect. The principal of these is the flooring, which is a dark blue, straw-flecked carpet that has no defined aisle. There are two seams, but these run longituinally roughly between each seat pair. The effect is to make the seat pods 'float'.
There is no inbuilt IFE, either in the overhead consoles or in the pod backs. Instead, an arm swings out of the console between each seat pair, upon which a media player will later be mounted.
The lid covering the IFE arm doubles as a spacious cocktail table, and there is a larger, bi-fold table for work and dining which rises and then unfurls from that same console.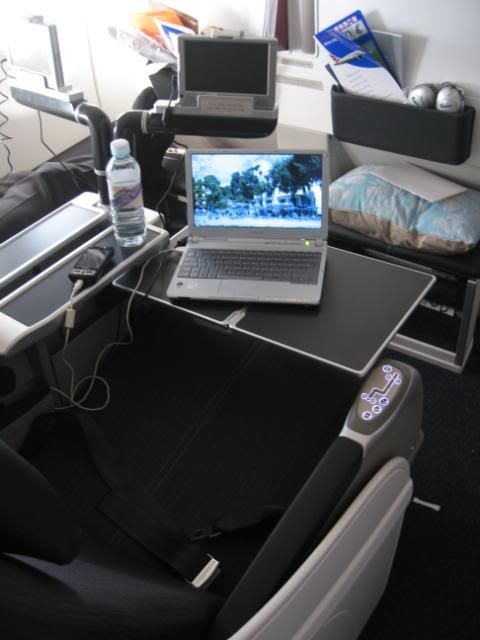 The seat controls are in the outboard armrests and roughly replicate the usual CW set of buttons, with the addition of a 'dining button' which makes the seat even more upright than that which you must preselect for take-off and landing. The seat itself is upholstered in a navy herringbone fabric, with a soft navy leather headrest and a separate, again leather-covered, sturdy ottoman mounted to the floor behind the seat or bulkhead ahead. The herringbone theme is carried forward on to the pale grey bulkhead.
The cabin is open from galley curtain to galley curtain; there are no partitions, bulkheads or additional curtains, which again makes the space feel more private jet than small cabin on a large aircraft.
The Service Begins
As we're investigating the cabin, service begins. It's clear from the off that the crew have been through a level of training that's very bespoke to the CWLCY product.
Each passenger is addressed by name at all times. There is a drinks round, followed by an appetiser presentation of, in our case today, the afore-posted Camarthen ham with Cox's apple potato salad and pea shoot. It's served, from a tray, on a First plate with a napkin and a fork.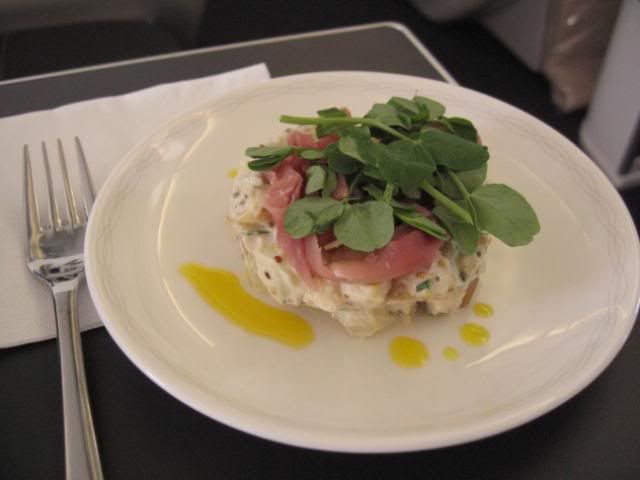 A top-up round is offered and then we can further test the OnAir system. It's easy to access and seems to perform especially well with BlackBerries and the like, rather than content-rich full websites through a laptop.
My opinion: the service is arguably First Class, like the crockery. It's professional, warm, friendly, efficient and it appears that the crew themselves are exceptionally proud of their roles. It's an absolute pleasure to be looked after by them.
The appetiser is substantial and very tasty, but not the easiest to eat daintily with a fork alone!
Before We Know It
:
Ireland
As you might imagine, there's a lot of chat between these pioneering BA1 passengers, most of whom are travelling, as is the way on so many J flights, alone. Given that, the announcement from the deck that we are 20 minutes out of SNN comes as something as a surprise to many. Of course, the technological paraphernalia that we are using on this 'connected' flight means that there is more activity than might be usual to get all the laptops, phones and BlackBerries put away. One of the obvious omissions of the new seat (which is proving comfortable so far) is that on this web-enabled aircraft, there's no laptop drawer a la Club World.
The seat belt light comes on and we descend through low cloud to see the green fields of Ireland drawing towards us, before making a smooth landing, quiet deceleration and short taxi on to the jetty. This first taste of CWLCY service has passed remarkably swiftly.
The Best Seat In The House?
There are washrooms front and aft, so there's a little disturbance possible if you're in aisle seats at Rows 1 or 8 and possibly 1A and 8K, as they're adjacent to the washroom itself (through the bulkhead).
The wing restricts the view groundward at 5 and 6 and, to a lesser extent 4 (if you wanted to look backwards at all), so you may wish to avoid the A and K seats there.
I'd say 1K, any at 2, any at 3, any at 7 and 8A are the prime seats. Beyond that, it really will be personal preference. Noise doesn't seem to vary much on such a short aircraft.
US Immigration Pre-Clearance
Whilst there's no water cannon to greet us, there are a plethora of staff at the head of the Shannon jetty, all welcoming each passenger. The well-signed route takes us first right and then left and left again, before doubling back on ourselves to enter the deserted immigration hall. This refurbished, spacious and brightly-lit space proves to be the area that we have walked around from the gate. Friendly security staff man the X-ray machine, which requires laptops out and shoes off, but as there is no arch, there is no requirement for jackets or belts off. Passengers with checked-baggage are channelled separately, but (the majority today) cabin baggage only passengers head towards a row of desks manned by 3 immigration staff. It's therefore very quick indeed before exiting the hall into an area which is currently under refurbishment.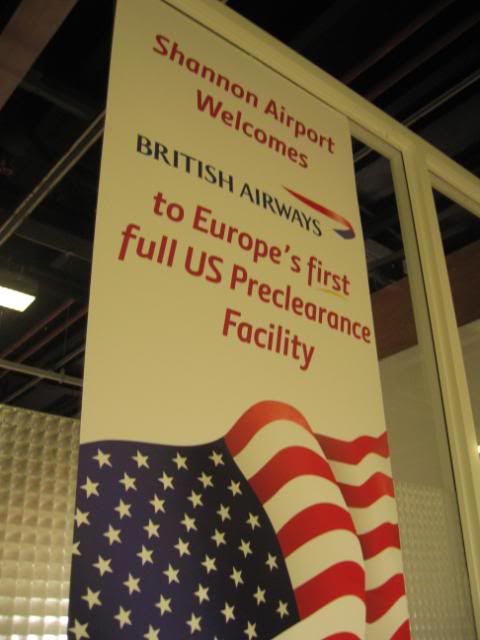 Immediately through those doors, a seating area furnished with lounge-style armchairs has been Tensa-Barriered off, but this will apparently change when the refurb is complete.
It transpires that arriving in this area completes the loop, as the gate is through the adjacent doors. The nearest restrooms are just beyond the gate.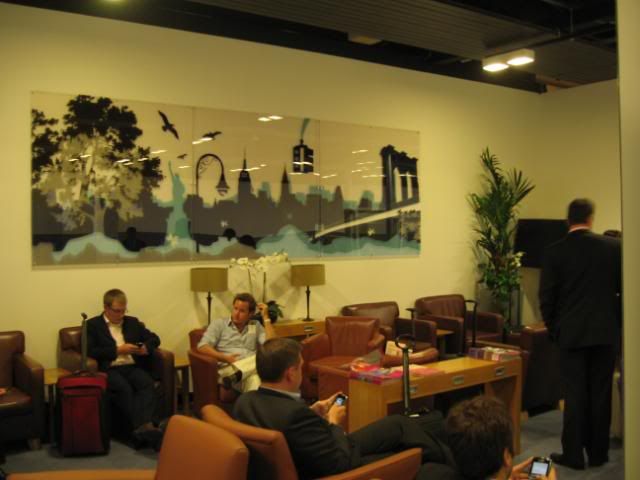 V2v2
The boarding announcement is made barely before any of us have got comfortable. We're obviously something of a novelty for the SNN ground crew, and a few of them are around chatting when the boarding announcement is made.
Through those adjacent doors to a BP check at the jetty-head on the right, and then it's down the ramp for something of a déjà-vu interlude. At this point, we're met by the same cabin crew, of course, and go through the bag re-stowing and seatmate re-greeting procedure.
The doors are closed even more quickly this time, as we all know what we're doing, and we push back and taxi moments later. Although the runway would allow a far more leisurely gathering of pace and gentle ascent, the sensation (real or imaginary) is of the same short take-off roll and catapult-like ascent to the skies; again no-doubt helped by the low payload, although of course we are now laden with a sight more Kerosene than we left East London with.
More On The Seat
A bit more on the seat, now that I've had chance to play. First and foremost, the seat is flat. Horizontal flat, 90 degrees to the vertical. Not wedgie, not slopey, not offset. I have the picture to prove it.
NB: Please note that this is a water glass with dark liquid in it, hic, specially provided
for the purposes of this in-flight picture. It's not representative of how other dark
(or lighter) liquids, hic hic, are presented.
The one thing it [the seat] does have is a slight upward contour at the pillow to offset the nose-up attitude of the aircraft in flight. It is fully adjustable from the upright to the flat. There are two power outlets per seat, nominally one each for your laptop and one for the media player.
They are UK/US sockets, so no need for an adapter if your native plug is from either of those countries.
The socket nearest the nape of the seat (and your buttocks) is intended for your laptop, and there's an indentation in the seat console adjacent for any transformer or loose wiring.
The stowage pocket on the seat back ahead is quite deep, though not terribly tall. There's another pocket underneath the ottoman and the space between the ottoman and the seat ahead is also useful for in-flight storage of the duvet, pillow etc.
Now, about that area; it is not big enough to walk-through from window seat, so you will have to step over your aisle side seat-mate if they are fully flat. Or at least you might have to, as the ottoman itself does lift up, allowing the deft of foot to step into the narrow space beneath, if the B or J occupant is not taking up the full length of the bed. Looking at those on board who are currently slumbering, all their seat-mates would be able to skip through, if their hips are their own, or well-replaced.
The dining work table is not a unique design, but it's well-executed in my opinion. It's sturdy enough to be very useful, but not so hefty that it disturbs your seat mate when extended. The leading edge is ultimately braced by the armrest if seriously burdened, but that's only required when extreme weight/pressure is applied. It slides fore and aft but does not, however, slide far enough forward or pivot to allow ingress and egress while still in use.
Finally, the lifejackets are located near the floor, at the front of the seat-separating centre console.
Quiet? Noisy? How High Are You?
Yes,
Prospero
, I think you'd have to admit that the A318 is a bit noisier than some of the bigger birds, but it's the remarkable sense of spaciousness that's most noticeable, so it's not an issue overall at all.
The only way to tell what altitude we're at is by
FatherContinentalclub
emailing me with updates from the ground. I'm sure I could log on too, but I'm typing like fury!
For What We Are About To Eat...
OnAir is activated 4 minutes after take-off and the seatbelt lights go out straight afterwards. As soon as our climb levels a little, there is another bar run with an offer of (unwarmed) nuts.
The Purser then comes around to take the dinner order on a pre-printed sheet.
The menu is as follows, designed by London restaurant Roast, and presented with grateful thanks to
Business Traveller
magazine editor, Tom Otley, from whose post on FT I have shamelessly cut-and-pasted it:
London City – Shannon
Shortly after take off, we will be serving you an appetiser and drink service on our short journey to Shannon.
Appetiser
Welsh Carmarthen ham with Cox's apple potato salad with pea shoot
Lunch
Dedham Vale Farm fillet of beef with Scottish girolles and Madeira sauce
British corn-fed chicken cooked in a Somerset cider sauce
Grilled sea bass served with a roasted fennel and caper dressing
Penne pasta in a courgette and aubergine tomato sauce with chestnut mushrooms and Berkswell cheese
Inverawe smoked salmon and prawns with new potato and horseradish salad
Dessert and Liqueurs
We will be pleased to offer you a liqueur to savour with your chosen dessert option.
Eton mess
Cornish Yarg and Cropwell Bishop
Stilton with Bath Oliver and Orkney
oat biscuits
Working Lunch
If you prefer to eat later whilst you finish off some work, we will be happy to serve you a main meal salad together with your choice of dessert from the lunch menu.
Inverawe smoked salmon and prawns with new potato and horseradish salad
Club Kitchen
After lunch, please help yourself to a selection of tasty treats including crisps, chocolates and biscuits
available in the forward galley area for you to choose from.
Drinks are available throughout the flight.
Afternoon Tea
We will be serving a traditional British afternoon tea service approximately 1 hour and 30 minutes
before our arrival into New York.
Sandwich Selection
Roast beef with horseradish cream and beetroot chutney
Smoked salmon with cream cheese, mature English farmhouse Cheddar with tomato or
Laverstoke Park Buffalo Mozzarella with roasted figs and Port reduction
A selection of plain and sultana scones served warm with English preserves and Cornish clotted cream
Afternoon Tea cake selection of coffee éclair and lemon tart
Drinks
Tea, ground coffee or decaffeinated coffee
Selection of herbal teas includes green tea with jasmine, peppermint, blackcurrant
and camomile with honey
We Are Truly Grateful
It's little later before the food begins to be served, from the forward galley. Clothed, pre-linened trays with a green salad already set atop are brought out two at a time, with CW-sacheted condiments wrapped with the cutlery in a linen napkin.
The only thing of note, it transpires, is the slightly odd cutlery combination; one fork, two knives and a dessert spoon, which sort of inverts the CE oddity of a single knife. In both cases, it means that one iron has to be used to twice – in this CWLCY case, the fork. Warm rolls are offered, but there is no side plate.
The salad is fresh, crisp and tasty, with a separate bottle of spicy lemon dressing (untested).
Next, the main courses are brought by tray, two at a time.
I had the chicken which, in my opinion, was beautifully presented and tasted superb. I mean really good. The sauce was extremely moreish, but quite light, and I very nearly asked for another roll to mop up. Sorry!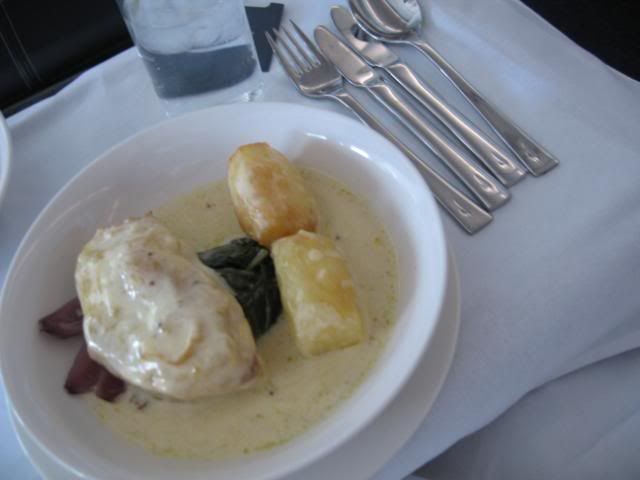 That cleared away, I plumped for the Eton Mess, which smelled and tasted wonderful, but was utterly unlike any Eton Mess that I've ever sampled, with no discernible meringue. In fact, I think that the meringue had absorbed too much cream and juice, so it came out more like Angel Delight…..
Others I spoke to chose the beef and the sea bass, and all seem enthusiastic.
Finally, tea, coffee and licquers were offered at the same time as desserts and then again straight afterwards, along with a selection from a choice of Green & Black's miniature (though still quite large) chocolate bars.
Overall, to me, an absolutely excellent meal service which would have benefited only from more cutlery and perhaps a little longer between courses.
Let Us Entertain You
There's the usual selection of HighLife magazines to peruse, plus the CWLCY guide. There's a Club Kitchen in the forward galley (and no WT passengers to raid it), but the principal entertainment facility is the demountable Arcos AVOD system.
Prior to the lunch service, the crew remove the arm which supports the system, and which would be somewhat difficult to access once the table is in use. Another crew member distributes the players and delivers verbal operating instructions. They're actually a slightly neater solution than I'd feared.
The headphones are a powered/dynamic set of noise-cancelling examples, and are, I think, more effective than CW or even F ones. Perhaps they might appear in new F?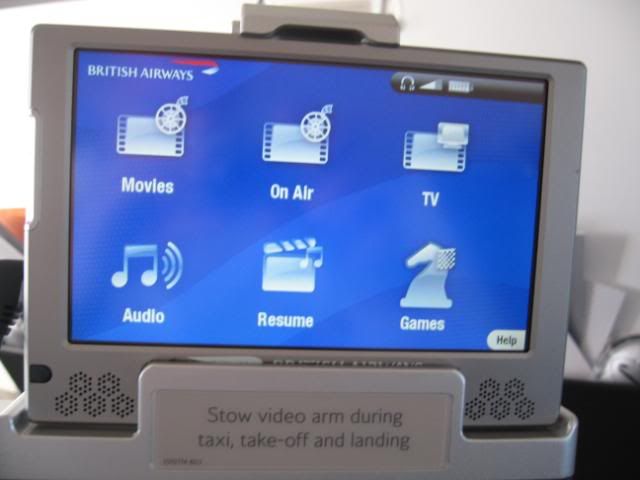 There are 1524 audio (song) titles available this month, 30 films, 45 TV programmes and 7 games. Picture quality is excellent, sound likewise and the touch screen is responsive.
Skype, to answer an earlier question, as with all VoIP services, are blocked to maintain bandwidth availability, and so would MS Messenger, being the one that I've tried – sorry!
Oh, and a further update on the seat: there's a small privacy divider between the two seats in each pair, and individual reading lights that extend from each side of the divider. There are also slave controls to recline and re-rise located on the inboard sides of the divider mounting, for easier use when in a recumbent position.
(I should mention at this point that we're about to enter US airspace, when the On Air must be disabled, so further posts may be from the ground. It's too quick, it's too quick!)
And another thing; I forgot to mention the hot towel service ex-LCY, and we've just had another one ahead of afternoon tea….
Tea For (Thirty) Two, Please
Well, hopefully, I'll get this posted before we disconnect! Afternoon tea up next, served from the trolley on anther pre-clothed tray. The tray has the cutlery wrap - F/S/K/K again – a pot of jam and a pot of clotted cream. There's a choice of tea, coffee or champagne proactively offered, and either a salad or sandwiches.
The sandwiches come plated, but still in their wrapper.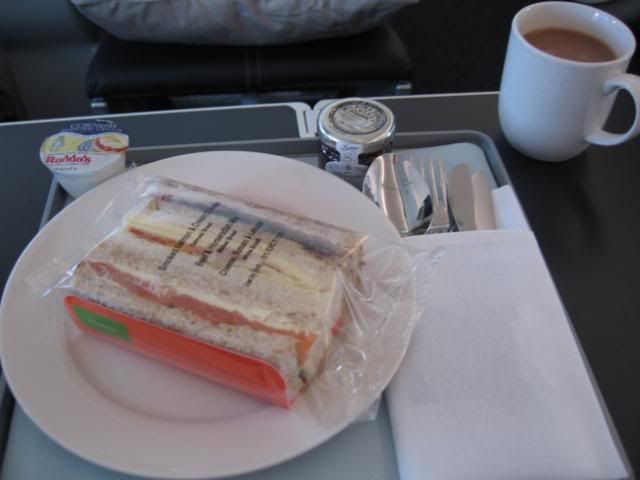 They're fresh and tasty (helped no doubt by the wrapping) but perhaps there's a more appropriate way of achieving that freshness at time of service on this most premium flight?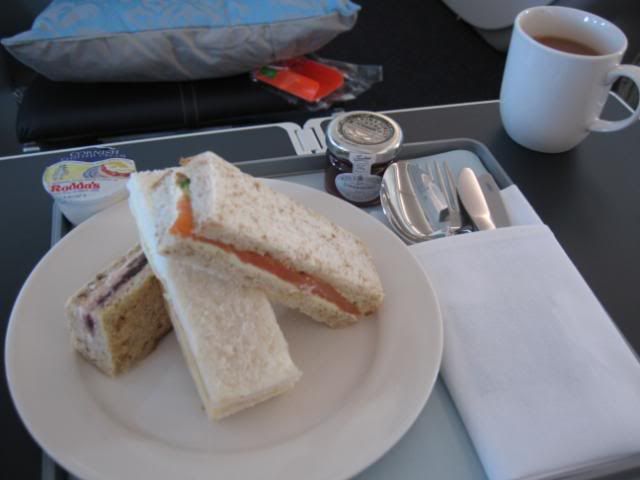 © Continenentalclub Catering Surving Suggestion School ;-)
I'll post this now in the hope that I have time! Scones to follow.....
Update
[...] scones approaching!
On Air Disables Entering US Airspace
Apologies: passed into US airspace and lost OnAir mid-scone.
In the back of a cab now, bouncing into Manhattan and fighting with AT&T roaming.
I'll see how much I can catch up on now...
A Quick Wash And Brush Up
Amenity kits are standard Prince of Wales check Club World iterations. Three washrooms, perfectly standard and obviously spotlessly clean. One aft of the cockpit door, one fore of Row 1, both on the port side. One aft of Row 8, on the starboard.
Big Apple; Little Time
Oh drat, just arriving downtown, so there'll be another pause in proceedings; sorry.
Do you want a hint as to how long it took from aircraft door to kerb(curb)side?
Well, where would the fun in that be? Cross your legs and hang on. Let's just say....oh no....arriving, sorry, byeeee......
Rewind
Right, where was I? Oh yes, scones.
Trolley again with the scone service. Choice of fruit or plain, and then a selection of pastries to accompany. Scones nicely warmed, but otherwise apparently the same as CE or CW. I had a lemon tart and a mini chocolate eclair as my pastry selection.
I thoroughly enjoyed the lemon tart, in particular, and possibly ill-advisedly mentioned it to a member of the crew. Next thing I know, I have four of them and another two eclairs. I may not manage dinner this evening....
So yes, I was right in the middle of that when we crossed out of Canadian airspace, reportedly (thanks Dad) at 39,000 feet and at 495mph, and off has to go the OnAir under US regulations.
Gave me more time to enjoy the cake, not having to talk to you lot, anyhow...
From Argeintina: How Private Is It?
Good question there
HIDDY
. I was going to update my earlier post on the 'privacy screen' actually because, upon further investigation, what I realised was that the screen is not in fact a screen at all; it matches the sweep of the the personal reading lights, so really it is a deflector.
How private was it? Well, more than a cradle seat because you do have a fairly defined personal space. Was my seat-mate in any way objectionable? No, so I hade no desire to hide.
With the seat in the fully-flat position, the resultant bed is lower than the seat base is in the upright position, so I'd say that whilst ultimately you're not as completely walled-in as you are in CW, you are pretty well nestled in your space.
Ultimately, I think the preference for the CW or CWLCY seat in a back-to-back test, would be hugely personal. For me, comfort was identical at 6', CWLCY feels sturdier but I like the CW laptop drawer. I think you have to accept that they're two fundamentally different solutions to the J seat question, both of which seem to suit my frame, weight, sleeping style (I'm a side-sleeping slumper; I can't get away with an NZ/VS flipper seat as I tend to sleep for only short periods and the constant conversion of the latter seat just isn't comfortable or practical....
Please Hold The Line, Flyer
The final chapter is brewing....
In The Meantime, All About OnAir
The pricing is set by your network provider, per your normal international data-roaming rates. Give your provider a call to check the latest ones.
There's no additional OnAir charge, nor is there anything like a time or data amount purchase landing page. You simply connect, and go.
The 'rules':
Making or receiving voice calls will not be allowed on British Airways flights. This is out of consideration for other customers and also to maximise the onboard bandwidth for all users. Therefore, use of Skype or Voice Over IP websites is not permitted onboard
British Airways will limit the service to text, email and data mode.
As a courtesy to other passengers, your phone must be in silent or vibrate mode.
Please pay close attention to the overhead signs; when the 'No Mobile' signs are illuminated, the service is unavailable and your phone should be in 'flight mode' or switched off.
Cabin Crew will advise you of any geographical restrictions to the service at the beginning of the flight. Availability of the service will depend on the flight path that has been allocated to the Flight Crew prior to the flight.
All electronic devices must still be switched off for take-off and landing.
I'm BA-ck ;-)
Good evening! You'll notice that I'm back again. so a very warm welcome from G-EUNA, operating as British Airways 2 with direct, non-stop service from New York Kennedy Airport to London City. Which, in itself sounds pretty cool.
Anyway, back to where I left off.
The descent into JFK, like the whole flight, was smooth and the cloud parted to reveal a beautiful evening. A relatively short taxi brought us just short of T7 and there was a short hold as a BA 777 had its tug disconnected, spooled up and then swung out of the way to clear our way onto Gate 1.
The stopwatch started at the moment the door opened.
Disembarkation is via the Concorde corridor, separated from the Concorde Room by a glass window and the distinctive sheer curtains. Out in to the main concourse, there are special CWLCY signs to make the route to the exit even easier to follow.
The simplest directions are to follow the signs to Baggage Reclaim. If you're carry-on only, as I was, then you walk straight past the carousel, through the double doors, into the arrivals concourse and out onto the street.
Stopwatch stops.
4 minutes, 57 seconds.
That strikes me as being rather good.
About Turn!
Almost exactly 23 hours after setting foot on the JFK sidewalk, the doors of the AirTrain slide open and T7 welcomes the evening's hundreds of passengers for the multiple British Airways departures to London Heathrow.
Amidst them, a most select 32 whose destination is London City.
How very civilised ;-)
The Return Journey Begins
Check-in is at the usual premium lobby at the left hand side of the T7 concourse. There's no queue at the desks, and one of just 6 minutes at security. There were some CWLCY signs in the check-in lobby and my agent was very friendly, but otherwise BA2 didn't seem to register with her as being particularly special; merely an unfamiliar flight number and destination.
There are plenty of benches and trays to prepare for the scans; laptops out, shoes and belts off here today.
Up the ramp and it's an easily followed route past the Concorde Room, turn right and then following the signs to the Terraces lounge.
I'd arrived exactly an hour before scheduled departure time so I took the opportunity to book in for a shower, for which I had to wait just 10 minutes at this peak hour of the day. It was a welcome refresher after a day in the city.
I grabbed a drink from the bar, but forewent the opportunity to enjoy pre-flight dining, preferring to be able to sample the supper snack service on board.
Re-hydrated, I headed back out of the lounge and to our departure gate (2), where boarding had commenced. There were a few familiar faces from yesterday, and we also knew that we'd be being looked after by the same crew as brought us here.
A very friendly welcome was offered to every passenger by the gate agent, and down the ramp we went....
The Purser is at the door and it's the same welcome on board as yesterday, except now it's welcome 'back' on board. With over 19,000 page impressions on this thread since I started, it's time to see how the overnight service compares to the outbound daytime flight.
The two remaining crew are positioned at the same stations as yesterday- foward, centre and aft.
The seats are laid with a white pillow for this JFK departure, but are otherwise exactly the same as they were when we boarded BA001, with the tagged coathangers propped on each ottoman.
The load is similar too, with just a couple of vacant seats, perhaps reflecting the likely appeal of this service to those holding flexible tickets. Despite being almost full, and the impending dusk, the cabin still feels instantly light, airy and spacious.
Jackets are taken and hung and menus and wine lists are distributed.
On board the Eastbound overnight service, passengers can choose from a selection of light snacks, branded NightCap.
There's:
Four Cabbage Slaw with pequino peppers, topped with smoked duck and caramelised onions
Or
Croque-monsieur
Or
Bruschetta sandwich with goat's cheese
Followed by
Wildflower & honey cheesecake.
As with the daytime service, the Club Kitchen is set up in the forward galley and, of course, the full wine list is available.
Breakfast brings with it two options; firstly an onboard service 1h20m prior to arrival, or alternatively a City Breakfast which can be delivered to your seat up to 20 minutes before landing, and eaten during the descent or on your journey from the airport.
The onboard service comprises:
Chilled fruit juice
An energising fruit smoothie
Fresh seasonal fruit
Or
Special K® with dried berries
Warm bacon roll served with tomato ketchup
Selection of warm breads and breakfast pastries
Your choice of coffee or tea
The City Breakfast offers the following:
Chilled fruit juice
Fresh fruit
Breakfast pastries
Boarding is exceptionally swift and we are seated, belted and pushing back notably more quickly than a wide body aircraft. This precludes the service of a pre-take-off drink and, as we're also blessed with a very short taxi, it's not much more than the crew can do in the available time to complete the safety demo and secure the cabin.
Once airborne, again very steeply, we're into the darkness very soon and, though we can see some lights below, it's not possible to identify exactly where we are. This means that we won't know when OnAir will activate. North, over Canada and it will be quite quick. East, and we'll have more time in US airspace and therefore activation will be later.
A Note To Readers:
Owing to the use of the same aircraft as the outbound, and the complete cabin darkness for much of the flight, there are few photographs available from this sector. My apologies.
Heading Home
As it turns out, it's a combination of both [a North Eastern track], so it's a little while before we hear the chime and we can log on again.
In the meantime, the crew are hard at work preparing the bar trolley. One crew member takes orders for supper (if desired) and asks whether we wish to be woken for breakfast at landing -1h20, or left to slumber until -20m.
Already more than a couple have bedded down (Indeed, as I write this, only one passenger other than me is apparently still active).
Once the drinks service has passed, any food ordered is served from the forward galley, delivered individually on pre-linened trays with the FKKS napkin wrap. I have the Croque Monsieur, which was actually more like a panini. To my tastebuds, it was an ideal supper dish and the accompanying cheesecake a very pleasant and well-proportioned sweet treat. Tea and coffee are offered, but most people seem to want to bed down.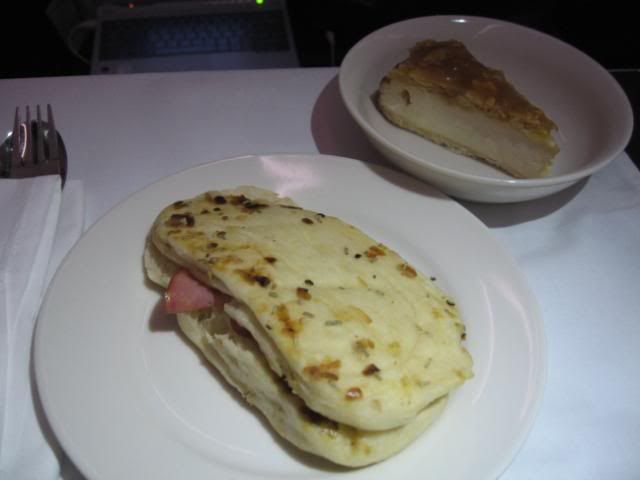 Bottles of water are brought around and, once the cabin is almost utterly dark, the
crew commence rounds of trayed glasses of orange juice and water. Both of which remind me that I neglected to mention this on yesterday's TR. On both flights, hydration has been very proactively offered.
And now, we're up-to-date, due in no small part to the fact that OnAir is running extremely quickly (relative to yesterday) - presumably due to the draw on the bandwidth being tiny now, and exceptionally high yesterday as almost everyone was trying it!
The Bed
The seat proved comfortable yesterday, but there have been a couple of questions about the bed.
The first thing to say is that the seat operation is basically identical to F. It's a gentle, smooth descent from the take-off position, down to the perfectly horizontal, with a footrest rising to meet a small ottoman. The ottoman is lower than the F one but is, like the CW ottoman, not to be used for seating.
The ottoman itself is lower than the seat squab when the seat is in the upright position. The seat therefore slumps down to meet the ottoman, which has the effect of providing additional privacy. As I look down at my seat mate, fast asleep, I can see not a lot of his torso and legs and nothing of his head - helped by that individual light deflector/privacy screen that pulls out a little way between the two seats. Hang on a second and I'll recline to bed position to see what I can see of him then....
All Rise
And back up again to type....
16 seconds to recline to fully flat; 21 seconds to resume the upright position. Motor quiet (he's still asleep!) What could I see of him? Nothing at all.
Seat is rock solid and fits my shape in terms of where the cushion joins are.
Total length allows me to stretch, flat out, with clear space at head and toes, and I'm 6'. Those that I can make out in the shadows are mostly curled slightly and seem to have acres of space.
It's impossible to objectively tell you how comfortable the bed is. My personal opinion is that if everyone was the same height, weight and build as me, then you'd love it. If you're not, you may not, but that applies to every seat on every airline in the skies. Broadly speaking!
Juice and water round just passed again btw, with an offer of coffee as I'm working....;-)
What I can tell you are two things:
The first is that almost everyone is currently asleep (the snoring being clear over the engines).That's a good read, I'd say.
The second is something that everyone will appreciate though, I'm sure. It's that most rare of beasts on longhaul aircraft, especially wide bodies: an individual airvent at every seat.
Bliss.
Right, I'm off for tea and then a snooze.
The Seatmate Skip
One more thing: I'm in a window seat, and I've just gone to the loo.
On balance, I have to say that the seatmate skip is actually very easy; it's not direct aisle access, of course, but not withstanding that, the low level of the reclined seat makes it more of a step than a skip.
From The Ground: Is There An Arrival Lounge at LCY?
Evening
HIDDY
! Looks like we're the only ones up at the moment!
From what I gather, but I'll try to get this confirmed within the next day (unless someone else reading can definitively confirm or deny more quickly) that there will be arrival arrangements in place very soon, if not already.
In the meantine, I've taken the opportunity to have a chat with the crew rather than sleep. Whilst I've done that, the cabin has looked like Mary Poppins' Nightime Nursery, with every slumberer neatly tucked up in their cots, every lights and every screen bar two out.
Mind you, how they can't hear the snoring is anyone's guess.
I reckon that we must have a zzzzzzzz trail behind us, not a vapour trail.....
Pssst. PSSST. PSSSSSST!
Hmm, well, what I assume is proof positive that the bed is comfortable: the crew are currently struggling to wake those who've requested the on board breakfast. There's an awful lot of folks who just aren't responding to the 'Good Morning Mr/Ms/Mrs Club World London City Passenger' salutations.
Update
Crew now approaching, in the darkness, with tiny clip-on torches to serve the requested breakfasts. Seat mate has slept for over 4 hours. We're about 1h10m out of LCY.
A Data Day Service
Only one chime from the OnAir system all flight, as we swapped from the US satellite to the European one. Rock solid performance - to be expected from only one active user.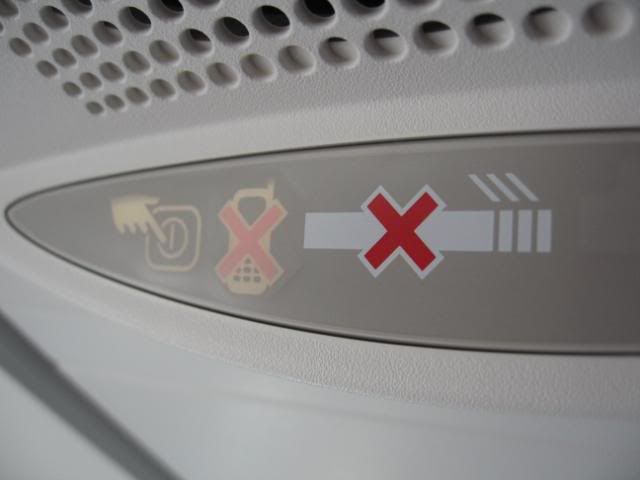 Captain tells me that on yesterday's outbound, when BlackBerry email etc was fine, but laptop web was slower, there were 47 'gadgets' logged onto the system from the 32 seats; in excess of 400 text messages were sent and received, and more than 17mb of data was transferred.
Check In, Board, Check In Again
On the outbound, yesterday, I completed an online check-in on
ba2go.com
[British Airways' Mobile website] from my Nokia N95 with perfect results - and at similar speed to that which I achieve on the ground.
The Day Begins
Well, that's breakfast over and 40 minutes to landing.
The lights are slowly coming up and the Captain has wished us Good Morning.
I've had the fruit platter, the smoothie, coffee and a bacon roll. Of all the components, only the smoothie was anything less than very good indeed. It was a bit milky for my taste, but I could very easily have asked for juice instead, of course.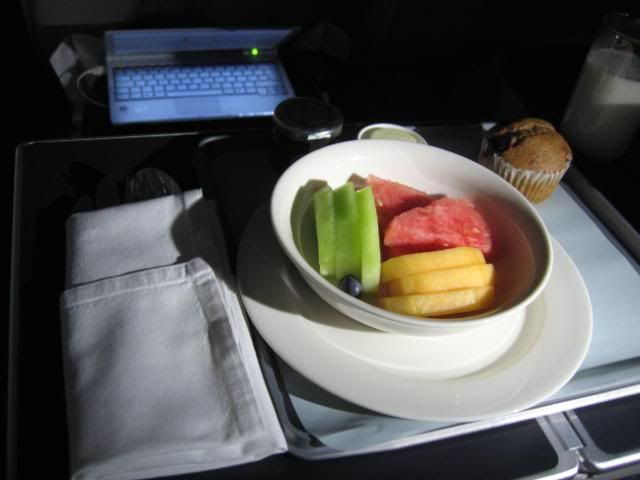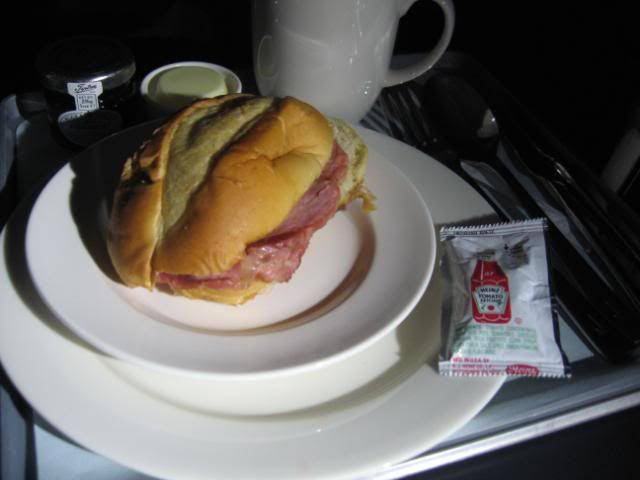 With the 40 minute announcement, we've also been advised that the OnAir system will be disabled shortly.
So, from the final minutes of this whistle-stop British Airways Club World London City return trip, I'll wish you Good Morning myself.
[..]
And wouldn't you know it, On Air has just gone off, so you'll have to wait for this!
The Speedbird Has Landed
Here I am then; back on

terra firma

and through LCY immigration in 3 minutes. I was the second last person off the A318.
The approach was from the East, along the river. The only discernible indication that the approach is steeper than normal (although I assume that the steepest angle is when landing towards the East) is in the final moments before touchdown when the ground comes up a little more quickly than usual.
Nevertheless, the landing is smooth and positive, with plenty of flap, airbrakes and reverse thrust (though not very noisy) to bring us to a comfortable halt, a pirhouette to trundle a short distance back along the runway to the exit point, and then the few yards to the terminal where there's another 270 degree whirl to prepare for a tugless departure.
Steps are straight on, and a parade of groundstaff point the way to immigration. Through Customs and the doors swing open to reveal the hum of London City Airport, ready to launch its new crop of passengers into the morning air.
It's at this point then that I'll pick up on the Arrivals Lounge point, and confirm that of which I was not sure when I replied to
HIDDY
earlier: upon entry into the Baggage Hall at LCY, there is a podium desk on the left for CWLCY arrivees.
An arrangement has been signed with the London Marriott Canary Wharf (West India Quay) for arriving passengers to enjoy complimentary use of their leisure facilities en route to their offices or onward destinations.
Chatting to one or two, they were saying that they actually have their own corporate facilities that they're off to use, and one who is a member at a local health club and that was to be his port-of-call.
A Moment, Please
That's it then; for a few hours at least. Next: my overall and personal thoughts.....
From The Ground: Does Size Matter?
Thanks
kered
. If anyone is going to be considering the aircraft's size, it's going to be when they're at LCY, viewing it at close quarter from the floor-to-ceiling glazed, apron-level lounge at Gate 24.
Having said that, compared to everything else next to it, it looks relatively enormous there.
At JFK, boarding via a jetty, it's barely possible to see the BabyBus from the terminal, so I suspect that it would be less of an issue to size queens there.
Inside, it is only in length that it varies from anything in the family up to an A321, which many will have flown on midhauls with far less spacious cabins, with much smaller seats, on sectors not dissimilar in length to JFK-LCY.
As I said early on, my initial impression was of space, rather than confinement, and the cabin is of course significantly larger than the upper deck of the 744.
Speaking of which, there are of course many people who still baulk at the idea of flying on something as
huge
as a Jumbo. They don't perceive that something that big can possibly float aloft safely.
So, personally, I never considered for a second that an aircraft of the A318's toned physique, with such a gym-trim interior would not be fit for Atlantic flying.
Likewise, I understand the physics that keep the Boeing behemoth above the briney, so it'll ultimately come down to personal preferences again.
Remember, size is all relative; even if the 'titchy' A318 ran over your foot, you'd almost certainly feel it

.


The Verdict
It probably makes sense to go through each component of the service to give a breakdown, followed by an overall result. So:
London City Airport
Departures
Excellent access, swift check-in, short walk to dedicated, ultra-quick security and a perfectly reasonable selection of shops, FX etc. 20 minute check-in with bags; 15 without. Friendly staff. Free wifi. Good signage. OLCI machines display generic security and boarding cut-off times for other BA LCY services, not the special CWLCY times.
8/10
Club World London City Gate 24 Lounge
C
omfortable, with a sensibly-judged range of refreshments to reflect the fact that most passengers will check in close to deadline and board almost immediately. Friendly staff. Free wi-fi (provided by airport) available. Fantastic view. Clear announcements.
8/10
Boarding
Short walk across tarmac and up steps. Very quick.
8/10
Welcome Aboard & Departure Preparations
Extremely professional and friendly welcome aboard from all crew members, who are obviously as delighted (if not excited) as we are to be there. Plenty of space to move around, to retreat to inter-seat space to allow passenger movement and to stow baggage. Clear announcements.
9.5/10
The Airbus A318
Brand new; spacious, clean, well -designed 32-seat single (all-business) cabin; 3 washrooms; single cabin; excellent personal ventilation; 4 exits.
9/10
The Club World London City Seat
Comfortable in seat and bed mode; innovative 'dining position' setting; continuous recline from seat to bed and return (no backrest 'flipping); robust dining/working table; large cocktail/gadget table; 2 power points, each usable by UK and US plugs; good lighting from overhead space light and adjacent task light; easy-to-reach controls; excellent sleeping privacy, reasonable seating privacy; excellent all-seat access/egress when seated; excellent aisle seat access/egress when sleeping, reasonable to good window seat access/egress when sleeping. Good storage provision. Excellent pillow, good duvet, no mattress pad or sleep suit.
8/10
In Flight Entertainment & Information
Neat, functional system with good GUI and extensive selection of audio and video content. Screen not massive, though most passengers will have laptops with them and may have their own content (or learn to bring it). Lacks 'Airshow'-style functionality for those who wish to track progress. Active noise-cancelling headsets very effective. Highlife magazine interesting and informative. CWLCY guide very helpful indeed.
7.5/10
OnAir Web and Email
A simple and effective solution for those wishing to keep in touch by BlackBerry, email or text messaging. Outbound flight (likely untypical as there were several journalists aboard an the service was a novelty for everyone) suffered intermittently from slowed data transfer. Inbound flight proved that it has the capability to handle normal web-usage easily.
7.5/10
Food & Beverage
Well-judged menu; excellent food quality; pleasing presentation; sensible portion quantity; good wine choice though no dessert wine; no apparent lack of quantities loaded; constant availability of snacks; bottled water supplied to all seats, regular (day and night) mid-flight juice and water runs. Cutlery pack composition and minor tweaks to scheduling of meal components are the only real areas for tiny attention.
8.5/10
The Shannon Shuffle
Swift and well-signed, though not palatial. Waiting area adequate, but not terribly premium or at all private. A wholly stress-free experience. Incredibly quick re-board as all passengers fully aware of seat location, storage facilities etc. Slightly incongruous second safety briefing no more than 120mins after the last.
7.5/10
JFK Arrival
Not exactly a direct hop from aircraft to kerb, but well-signed and hardly a four-day camel ride. Jetty connection to terminal. No immigration formalities makes for a c.5 min walk from aircraft seat to cab seat, which is stunning. An utterly superb JFK experience.
8.5/10
JFK Departures
T7 premium check-in area quiet and functional. Staff do not appear to have been briefed well on the CWLCY service, despite the presence of signage. My agent had to be prompted that it existed at all, and even then seemed to consider it somewhat as 'just another flight'. Probably the only really weak point of the experience overall. 45 minute check-in.
6.5/10
JFK Terraces Lounge
Large, well-equipped with pre-flight dining and spa. Plenty of seating, but dining area and spa very busy at this departure time. Lounge is (comparatively) a long way from the low-numbered gates hitherto used.
7.5/10
Boarding
Once at the gate, extremely quick by jetty.
9/10
Overnight CWLCY Product
Aircraft darkened very quickly to almost pitch black; little light pollution from lights or screens, slight delay to OnAir service whilst waiting to cross out of US airspace; swift supper delivery; no announcements; silent, regular passage of crew with water/juice; use of tiny LED clip torches only by crew when required, some noise from forward galley reported; correctly-timed waking of breakfast-requiring passengers; breakfast served in darkness with crew torches and individual lights used; last-possible moment waking of all other passengers and cabin lighting smoothly and gradually raised.
9/10
London City Airport Arrival
Disembarkation by steps; extremely swift clearance of aircraft; short walk to terminal building; speedy immigration and then just a few steps to baggage reclaim, a few more through customs and then exit into concourse and onward to DLR, bus, taxi or car park. Immensely friendly staff.
8.5/10
The Crew
I've deliberately left this bit until last, because it's so important. Nevertheless, I can use just one word to sum up the professional, courteous, pro-active, swiftly-reactive, smart, friendly, efficient, enthusiastic, proud, feel-good and, in one particular case utterly glamorous service provided by the cabin crew of Chris, Nick and Bev, and the flight crew of Paul, Mike and Jerry:
Phenomenal.
They operated both flights, which were of course their first revenue sectors on the route. The cabin crew were clearly eager to take feedback from passengers constantly, and at the same time respond to those suggestions instantly. The flight crew were keen to do everything they could to make our journeys as swift and safe as possible. Between them, they delivered CWLCY's USP of efficient comfort brilliantly. Together, they were fabulous ambassadors for not just British Airways, but also Britain - important especially because this service will likely welcome an especially international audience on board between these two financial and political powerhouses of the World.
10/10
So, out of a possible maximum of 170, that's an aggregate total of 140.5, or an average of:
8.25/10
However, that doesn't take any account of so-called 'weighting', and I'm so committed to the belief that the soft-product - the service - is so critical in defining the experience, and so fundamental in catalysing repeat custom and recommendation, that I personally believe that it's appropriate to actually make that score out of 40. Recalculated on that basis would actually produce a possible maximum of 200, an aggregate total of 180.5, or an average of:
9.02/10
One Last Gush
Launching this service, in the teeth of a recession, is undoubtedly a risky move for BA, but at the same time it's arguably an extremely (and uncharacteristically) entrepreneurial one. The doom-mongers who quote the failures of Eos, Maxjet and Silverjet fail to acknowledge that of all the weaknesses that led to their demises, not a single one of them challenges the well-established, well-connected network airline that is BA, operating out of an in-demand airport in a different economic environment to that which existed then.
Nothing in any of that guarantees CWLCY's future, but the sheer quality of service and the strength of its airline backing means that it deserves to have every chance of success. It's not perfect, and I'm confident that further improvements will come, but it's a hugely commendable effort and the 52 pilots and 300 cabin crew who will operate the ultimately twice-daily service have brought back more than just a little bit of excitement, style, colour and good news to BA.
I loved it.